Custom made
Do you feel that your company clothes are without an idea or joke?
Not satisfied with the quality of regular promotional t-shirts?
If you do not want your corporate gift t-shirts to be just a home-made outfit, then UAX® t-shirts are the ideal choice.
We'll draw your design and print it on your t-shirt
We can do e-shop with products with this design
We can move design
Gif, Video, PF
Various reactions to anniversaries, etc. (20 years)
use in message signatures, messenger, instagram => GIPHY
WE WILL DRAW YOU A UNIQUE DESIGN
Creation of funny graphic designs for UAX® printing by a leading Czech graphic artist and designer Radek Leskovjan, based on your requirements and our ideas. designer Radek LeskovjanWe will process several designs in our graphic studio, from which you can choose the ones closest to you.
Radek Leskovjan won't shoot images from the side. Before he takes the pencil in his hand, he will be interested in your business, its vision, mission and culture during a regular consultation. Only then can the first series of original graphic designs for your new Company T-shirts.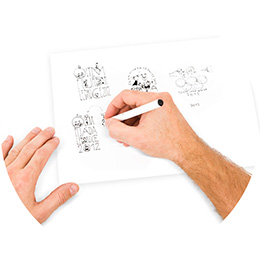 MANUAL SCREEN PRINTING
We sew flexibly in the Czech Republic and use high-quality product printing, using the manual screen printing method, where we press the color directly into the fabric using a screen printing stencil and a trowel. This method ensures a high-quality combination of material and printing. For each print there is a hand-made sieve, which in the hands of experienced printers transforms typically Czech UAX® T-shirts in original works. Printing and production takes place directly at the manufactory's headquarters in Bernartice nad Odrou.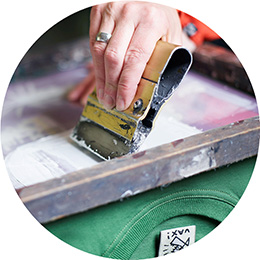 QUALITY MATERIAL
Quality, branded products and above all iconic UAX® cotton T-shirts weighing 180g/m2 in a wide range of colors 28 colors, which thanks to perfect technology Holds shape and is colorfast even after several years of wear.
T-shirts, sweatshirts, bags, towels, mugs and other UAX® products in the top quality that is sure to please both your business's partners and possibly your employees.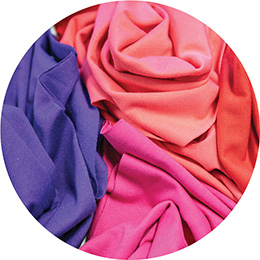 QUALITY CONTROL
They'll go through a thorough review before we give you the new business t-shirts. Thanks to an active and responsible approach to production and processing control, we are gaining more and more satisfied clients.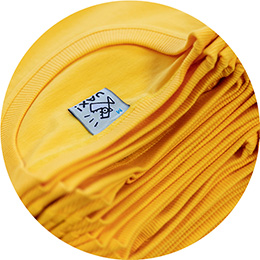 GIFT PACKAGE
We can pack UAX® corporate T-shirts from us in original boxes printed with your personalized UAX® motif. Gift bags are fully recyclable.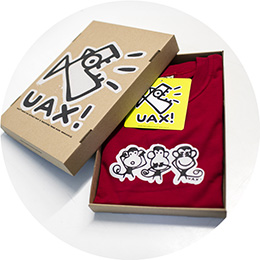 CUSTOM SHOP
We also offer expert logo design, logo creation, and corporate identity.
Create a public COSTUMIZED E-SHOP where you sell merchandise with your designs through your channels to clients.
Some examples of COSTUMIZED E-SHOPS:
Creating a private COSTUMIZED E-SHOP, used primarily for marketing purposes for your business orders, for ordering color combinations and prints.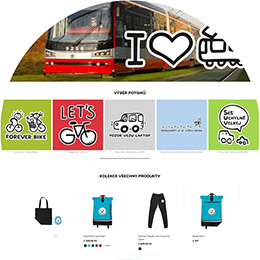 An original, funny and imaginative design of your company t-shirt is a challenge for us.
Therefore, do not expect us to simply print your company LOGO on your T-shirt, but we will process an original print with the possibility of printing on more than 150 UAX® products.
You will get much more from us!
















WHAT ELSE CAN WE MAKE?
IT DOESN'T END WITH A T-SHIRT!
I want a design
Animation
Gifs for instagram
Personalized design
Custom made of gift items
Website
Merchandise shop
Corporate identity
GET INSPIRED BY PERSONAL MOTIVES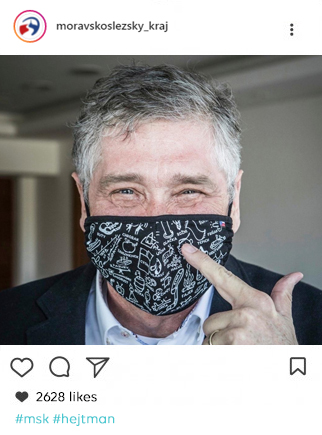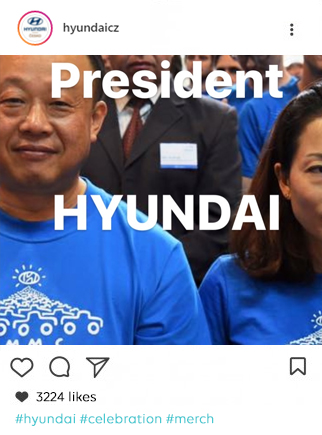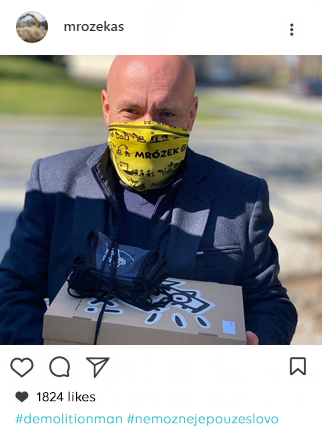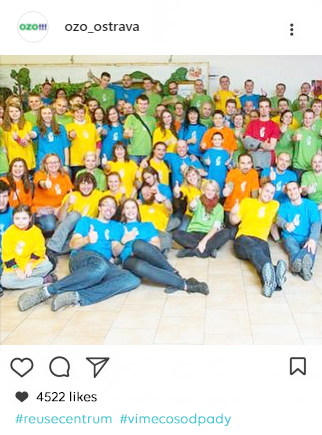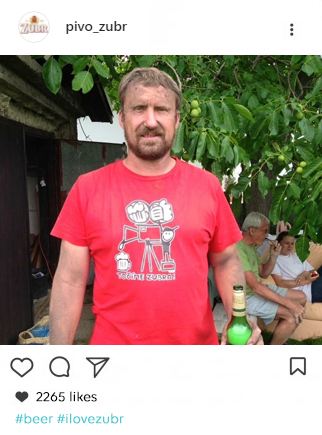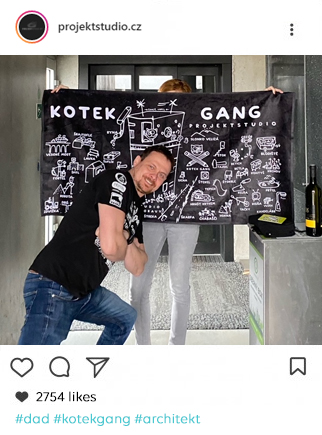 Reference
We have been on the market for 25 years and during this time we can boast of cooperating with the best in their fields.
You too can be one of our many satisfied customers!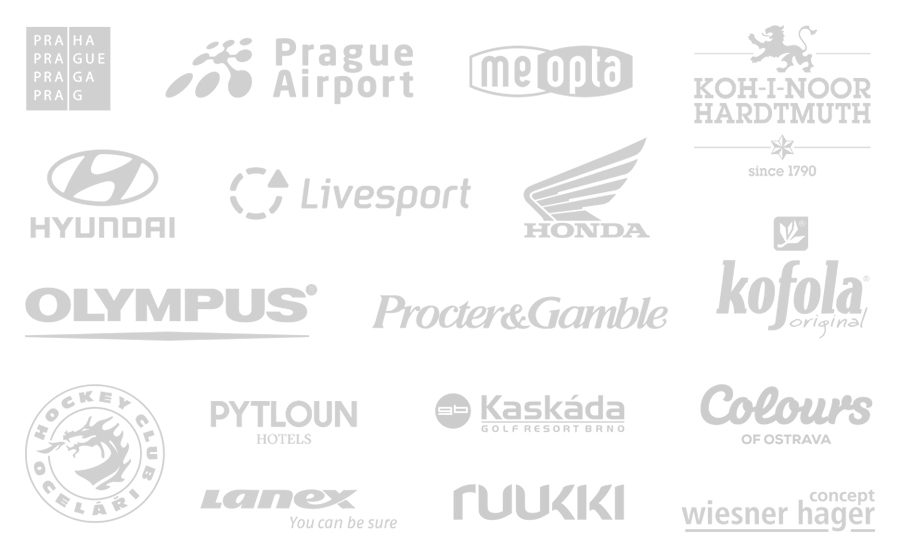 What do customers say about us?
"We have been cooperating with this company for 10 years. It started inconspicuously, by sewing a few T-shirts for employees. In the meantime, our company has grown and we are still returning to the Czech quality of our favorite color T-shirts, which maintain color stability and do not shrink after years."

David Karasek
designer and owner MMCITE
"For a long time, we were looking for custom T-shirts for production for a demanding client. After vicissitudes with many suppliers, the trips took us to this magical workshop. We were thrilled by the original approach of the owner as well as many of our satisfied customers. It's not just T-shirts. During each visit to our clients, they were able to captivate and inspire with their passion for work. Quality materials, originality, perfectly organized production and meeting deadlines. We recommend and are happy to return."

Tomáš Langer
director of an advertising agency Creavision
"We wanted to wear such a product in our company as well. We like to support local manufacturers, we are a Czech family company ourselves, so we did not want to wear t-shirts made in China in the company. The choice was clear."

Kateřina Kadlecová
company director USSPA
"Our beer is special and that is why we wanted to offer our consumers a special gift item. T-shirts from UAX completely fulfilled our intention with an original concept of creativity. T-shirts have literally become a "hit" with our fans and very positive reactions are an incentive for us to produce more collections."

Ing. Petr Hermély
head of Marketing ZUBR
"Our t-shirt from uax is original, just like us - we feel that way too :) It's nice that uax just didn't slap the logo on the t-shirt, but wanted to know more about us. Now it's not just our t-shirt - this t-shirt is ABOUT US…"

Michal Bielesz
director of the company Speciální technologie s.r.o.
"We love UAX T-shirts in one word! It was originally a gift for the employees of our company. They liked the T-shirts so much that they even started riding them to customers who, when they saw them, showed a desire to have them too! Now every year we make special limited editions, which are an unusual and unique gift not only for our customers thanks to the original design proposal! As our Chief (CEO) says, "Those UAX BLINDS have balls!""

Petra Mišáková
marketing manager KARAT Software a.s.
"I work daily with a lot of people who like luxury and quality, distinctive things. I would like to have a gift for them that they can't buy anywhere. I need a gift for my clients who already have everything, just not me on a T-shirt."

Lukáš Pelech
professional photographer lukaspelech.com
"In 2002, we sang that "our music will be your clothes", but we soon found out that without a solid manufacturer, trick and other clothes hold people badly. The connection with Uax !, which took place shortly afterwards, was therefore natural and maximally effective!"

Mardoša
co-founder Tata Bojs
"My younger but more famous (:-o) brother Architect Kamil Mrva introduced us to UAX and because we like original things, our choice for work clothes for opticians and examination rooms was unequivocally UAX."

Daniel Mrva
BM Optika
"That UAX is fine, isn't it? T-shirts for girls and boys who don't play anything. And it wears really well, you will do great at work and in the pub. However, we also had Leski do the second one."

GabrieLOVE
Landscape architects Gabriel s.r.o.
How to make UAX®
Where to find us?
Feel free to email us!

Notice: Undefined variable: L_form1 in /home/uax1/www.trickaprofirmy.cz/index.php on line 1175

Notice: Undefined variable: L_form2 in /home/uax1/www.trickaprofirmy.cz/index.php on line 1176

Notice: Undefined variable: L_form3 in /home/uax1/www.trickaprofirmy.cz/index.php on line 1177

Notice: Undefined variable: L_form4 in /home/uax1/www.trickaprofirmy.cz/index.php on line 1178

Notice: Undefined variable: L_form5 in /home/uax1/www.trickaprofirmy.cz/index.php on line 1179